11 Things to Do This Weekend in Washington, DC
Our end-of-the-week picks for April 5-7 include National Cherry Blossom Festival events, the Washington Auto Show and so much more.
Check out our end-of-the-week picks and discover all of the best events, festivals, museum exhibits, concerts and more happening in the nation's capital.
Friday
'Power in My Hand: Women Poets, Women Artists, and Social Change'
The National Museum of Women in the Arts frequently hosts exhibits in its Betty Boyd Dettre Library and Research Center, which is open Monday-Friday, 10 a.m. – 12 p.m. and 1-5 p.m. Its newest display will showcase how women poets and artists communicate with and pay homage to each other. The exhibit, which runs through Aug. 30, features printed poems, artists' books and pieces of art that show this relationship that encompasses words, images and politics.
10 a.m. – 12 p.m., 1-5 p.m. | Admission
National Museum of Women in the Arts, 1250 New York Avenue NW, Washington, DC 20005
• • •
Washington Auto Show
Things are heating up for one of the nation's largest auto shows, which will take place in spring for the first time ever, compared to its usual January run. Car lovers can expect the 2019 edition to dazzle with more than 600 new makes and models from 35-plus manufacturers. Attendees will be able to take part in three different indoor ride and drive experiences, and also take a car out for a test drive on the streets of D.C. Throughout the show, there will be artists painting cars live on-site, VIP tours led by automotive writers, appearances from local sports stars and mascots, and much more.
12-10 p.m. | Tickets
Walter E. Washington Convention Center, 801 Mount Vernon Place NW, Washington, DC 20001
• • •
Blossom Bash
The Anthem, a state-of-the-art venue at The Wharf, will host this musical celebration of the cherry blossom season. Pop megastar Meaghan Trainor takes the stage for the second year of this bash, while MAX and Jake Miller will open the show. Before or after the concert, make sure to check out all of the best things to see, eat and do at The Wharf.
7:30 p.m. | Tickets
The Anthem, 901 Wharf Street SW, Washington, DC 20024
Saturday
21st Annual Cherry Blossom Freedom Walk
Lace up your sneakers for this stroll, which commemorates Japanese Americans and their experience during the Second World War and encourages the continued defense of civil liberties for all Americans. The walk begins and ends at the intersection of Louisiana & New Jersey Avenues NW, the site of the National Japanese American Memorial. This year's theme is "Fractured: The Faces of Family Separation."
9 a.m. – 1 p.m. | Free admission
Louisiana & New Jersey Avenues & D Street NW, Washington, DC 20001
• • •
Petalpalooza at The Wharf
Get ready for more than eight straight hours of free tunes, all-ages activities, a beer garden, interactive art installations and games, all capped off by fireworks at The Wharf during Petalpalooza (formerly known as the Southwest Waterfront Fireworks Festival). Folks can explore DC's hottest new development and grab a great seat for the fireworks show. Entertainment begins at 12 p.m. and is capped off with fireworks at 8:30 p.m., weather permitting.
12-9:30 p.m. | Free admission
The Wharf, 1100 Maine Avenue SW, Washington, DC 20024
• • •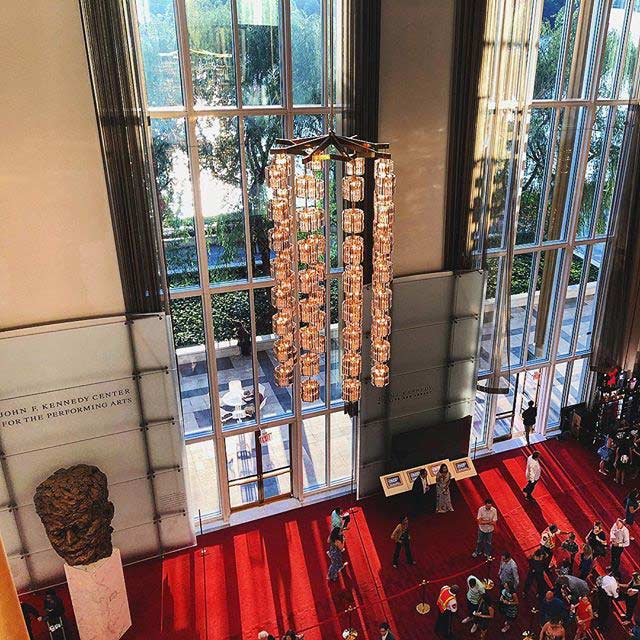 New York City Ballet: 2 Programs
The New York City Ballet comes to the Kennedy Center to take on a range of compositions across six days of performances. Tuesday, Wednesday and Sunday will feature the company showcasing their breathtaking choreography via classic works from Reisen, Balanchine and Robbins. From Thursday through Saturday, you can see new works and productions from the company, including a performance featuring hip-hop tracks by Jay-Z and Kanye West.
1:30 p.m. & 7:30 p.m. | Tickets
The John F. Kennedy Center for the Performing Arts, 2700 F Street NW, Washington, DC 20566
• • •
Mosaic Theater Company: 'Native Son'
Richard Wright's classic novel comes to life on stage at the Atlas Performing Arts Center in this riveting adaptation that runs through April 28. Bigger Thomas lives in poverty on the South Side of Chicago in the 1930s, constantly fighting oppression and racism. After the 20-year old gets a job working at a rich white man's home, a series of violent events unfold that seal Thomas' fate. Mosaic Theater Company presents this fast-paced rendition of one of the most important novels of the 20th century.
3 p.m. & 8 p.m. | Tickets
Atlas Performing Arts Center, 1333 H Street NE, Washington, DC 20002
• • •
'The Peculiar Patriot'
Liza Jessie Peterson performs this one-woman show that will highlight the corruption and inequality found within America's criminal justice system, which has imprisoned 2.3 million people, leaving an indelible impact on friends, families and communities. Peterson's character, Betsy LaQuanda Ross, visits penitentiaries regularly to cheer up her loved ones. In addition to neighborhood gossip, Betsy shares illuminating information on the injustice at-hand. Peterson has spent decades working with prison populations, and her show, which runs from Monday through April 20, will trace the roots of the booming incarceration industry all the way back to plantations.
8 p.m. | Tickets
Woolly Mammoth Theatre Company, 641 D Street NW, Washington, DC 20004
Sunday
'Ursula von Rydingsvard: The Contour of Feeling'
German artist Ursula von Rydingsvard, who spent years in refugee camps at the end of World War II, composes monumental sculptures that incorporate cedar, leather, linen and other materials, crafted through labor-intensive (and at times dangerous) processes. The Contour of Feeling marks the grandest exhibition of von Rydingsvard's work in the U.S. and her first solo exhibition in DC at the National Museum of Women in the Arts. The abstract pieces evoke biographical, religious and cultural connotations, but all the while maintain a sense of mystery that only von Rydingsvard can provide. The exhibit runs through July 28.
12-5 p.m. | Admission
National Museum of Women in the Arts, 1250 New York Avenue NW, Washington, DC 20005
• • •
'Junk'
Pulitzer Prize winner Ayad Akhtar's latest work will be staged at the illustrious Arena Stage from this Friday through May 5. Junk is a spellbinding look at Wall Street and junk bond giants in the 1980s, with the conniving Robert Merkin at its center. Merkin hopes to take over a family-owned manufacturing company without the slightest hint of remorse. Akhtar dives into Merkin's world and those who try to hold him accountable in this riveting production.
2 p.m. & 7:30 p.m. | Tickets
Arena Stage, 1101 6th Street SW, Washington, DC 20024
• • •
ChefsFeed Indie Week
ChefsFeed brings a weekend's worth of events to the nation's capital, starting with sold-out events on Thursday and Friday at Tim Ma's American Son restaurant in the Eaton Hotel. However, Sunday presents the grand finale: 12 courses from all 24 chefs present throughout the weekend, with wine included. Dive into cuisine from all over the country in the culinary capital.
6 p.m. | Tickets
American Son, 1201 K Street NW, Washington, DC 20005
• • •
#MyDCcool Photo of the Week
Make sure to share your scenic photos with us using #MyDCcool, and we may feature yours next week!