40+ Things to Do This May in Washington, DC
With summer just around the corner, DC features a month packed with fun
Passport DC – May 1-31
This year marks the 10th anniversary of Passport DC, a month-long celebration of international cultures that includes two chances to enter embassies in the District free of charge. The National Cathedral's Flower Mart (see below) is a part of the festivities this year, and the aforementioned embassy open houses occur on May 6 (Around the World Embassy Tour) and May 13 (European Union Open House). There's also the National Asian Heritage Festival on May 20 and the Embassy Chef Challenge on May 24, which will showcase culinary mastery from around the world.
•••
Truckeroo – May 5
Truckeroo brings local food trucks to The Bullpen near Yards Park in the bustling Capitol Riverfront neighborhood to dole out everything from cookies and milk to Vietnamese sandwiches. About two dozen wheeled food sellers show up, and there are picnic tables and shade to keep things cool. There will also be games, cold beverages and live music to create the full-on springtime experience.
11 a.m. – 11 p.m. | Free admission
The Bullpen, 1299 Half Street SE, Washington, DC 20003
• • •
The 78th Annual Flower Mart – May 5-6
Calling all garden enthusiasts! Enjoy one of spring's most impressive showcases of colorful perennials, cutting-edge landscape exhibits and extraordinary floral arrangements produced by international floral designers at the Washington National Cathedral, as well as embassies throughout the District. This year's Flower Mart is an official Passport DC event. Show your appreciation, and then take part in family-friendly activities including garden tours, a rock-climbing wall and an antique carousel.
10 a.m. | Free
Washington National Cathedral, 3101 Wisconsin Avenue NW, Washington, DC 20016
• • •
Running of the Chihuahuas – May 6
The Wharf, which is set to fully open this fall, celebrates Cinco de Mayo with this absolutely adorable chihuahua race. Watch the little pups run their way to glory at DC's hottest new development. You'll also be able to enjoy drinks and live music throughout the afternoon. Check out The Wharf's calendar for other upcoming events.
1 – 5 p.m. | Free admission
The Wharf, 600 Water Street SW, Washington, DC 20024
• • •
Broccoli City Festival – May 6
Celebrate environmental awareness, a healthy lifestyle and the fact that it's a Saturday in spring with Broccoli City Festival. You'll be treated to a stellar lineup of musicians, including Solange, Rae Sremmurd, AlunaGeorge and Lil Yachty. The festival is not just entertainment, either: you'll come away more educated on your carbon footprint and how to live sustainably. In addition, there will be a food village, a vendor market and much more.
12 – 10 p.m. | Tickets
Gateway DC, 1100 Alabama Avenue SE, Washington, DC 20032
• • •
Funk Parade – May 6
In honor of U Street's diverse cultural history, people from all over the District come together to celebrate the spirit of funk at this free, one-of-a-kind parade, street fair and music festival. Watch the street (and side streets) come to life with live musical performances and entertainment from a variety of vibrant dancers, marching bands and visual artists. Get an education on go-go music, made famous by DC's own Chuck Brown, and then groove to Latin hip-hop, funk brass and frenetic DJ sets, among many activations. Good to know: There will be plenty of opportunities to fuel up from street-side food and drink vendors so you can funk out all day and night long.
12 – 7 p.m.| Free admission
U Street, Washington, DC 20009
• • •
Kingman Island Bluegrass & Folk Festival – May 13
This annual salute to bluegrass music features local vendors and good vibes on the gorgeous Kingman Island in northeast DC. Leading contemporary artists within the bluegrass and folk genres will perform, including Town Mountain, Dom Flemons and Frank Solivan & Dirty Kitchen. The festival is all about community and sustainability (proceeds go towards the Living Classrooms Foundation), so grab a drink and some food, enjoy the weather and scenery and celebrate with friends.
12 – 8 p.m. | Tickets
Kingman Island, 575 Oklahoma Avenue NE, Washington, DC 20002
• • •
Marc Maron: The Too Real Tour – May 13
Currently the king of the podcast world with his WTF show, Marc Maron has established himself as one of the most thought-provoking and brutally honest comedians in the business. Equipped with eye-opening perspective and searing wit, Maron is a wonder to behold on stage. He will bring his memorable act to the cozy confines of Warner Theatre for one night only this May. Make sure to get your tickets soon, as Maron regularly sells out venues around the country.
8 p.m. | Tickets
Warner Theatre, 513 13th Street NW, Washington, DC 20004
• • •
Green Festival Expo – May 13-14
The country's largest and longest-running green living event embarks on its 13th edition this May, holding a large marketplace at the D Hall inside the Walter E. Washington Convention Center. The two-day festival will feature more than 200 exhibitors, over 50 inspirational speakers and plenty of tasty vegan and vegetarian eats. Kids 16 and under enter for free, and in honor of Mother's Day, moms get 50% off admission at the door! Check out other admission deals as well.
10 a.m. – 5 p.m. | Tickets
Walter E. Washington Convention Center, 801 Mount Vernon Place NW, Washington, DC 20001
•••
DC Bike Ride – May 14
Join the area's bike-riding community during the only closed-road, car-free bike ride in the nation's capital. The 20-mile course will show off DC's beautiful spring sights and provide plenty of time for you to chat with and get to know fellow lovers of the bike ride. All proceeds go to the Washington Area Bicyclist Association, which works to deliver street safety. The event concludes with the Finish Festival, which will feature live music, entertainment and food trucks. A special perk: kids ages 3-7 ride for free!
8 a.m. – 1 p.m. | Register
•••
Washington Jewish Film Festival – May 17-28
This exhibition of films from around the world is one of the most revered Jewish film festivals in North America. Across its 11 days, Jewish history, culture and experiences will be celebrated with more than 80 screenings at numerous DC theatres, many of which are regional, U.S. or world premieres. There will also be discussions with filmmakers and experts after screenings. Make sure to check out the full film roster to plan your movie-going experience.
Tickets
Various locations in DC
•••
ZooFari – May 18
Home to some 1,800 animals, the National Zoo transforms into a wild, culinary wonderland for this annual fundraiser featuring more than 100 DC restaurants. ZooFari caters to all in the food-loving kingdom with complimentary bites from eateries like 1789 Restaurant, Hank's Oyster Bar and Masa 14, among others. Craft cocktail, local beer and regional wines add to the revelry, which also includes live entertainment, a silent auction and exciting animal encounters with small mammals and great apes.
6:30 – 9:30 p.m. | Tickets
Smithsonian National Zoo, 3001 Connecticut Avenue NW, Washington, DC 20008
•••
Spring Wine Festival & Sunset Tour – May 19 & 21
This three-day celebration is sold out for Saturday, but you can still grab tickets for Friday and Sunday. Mount Vernon's annual spring soiree includes tours of the property's mansion and cellar, appearances by "George and Martha Washington" and live jazz on a beautiful lawn overlooking the Potomac River. You can also sample more than 20 Virginia wines, and a fruit and cheese box is available for purchase to pair with your sips.
6 – 9 p.m. | Tickets
George Washington's Mount Vernon, 3200 Mount Vernon Memorial Highway, Mount Vernon, VA 22121
•••
Jazz in the Garden – May 19 – Aug. 25
Kick back and groove to the music with sangria in hand at Jazz in the Garden on Fridays throughout the summer, held in the National Gallery of Art's Sculpture Garden starting May 19. An eclectic mix of DC area jazz musicians lend a soundtrack to one of the city's most idyllic scenes set around the sculpture garden's central fountain. This is a free seasonal tradition that you do not want to miss. Check out the lineup and the food and drink offerings.
5 – 8:30 p.m. | Free admission
National Gallery of Art, 6th and Constitution Avenue NW, Washington, DC 20565
•••
#MYIGDCcool Capitol Riverfront Instameet – May 21
Join @visitwashingtondc and @IGDC for another #MYIGDCcool Instameet, this time exploring the Capitol Riverfront neighborhood. Just south of the U.S. Capitol, this booming neighborhood is home to the Washington Nationals and so much more. We'll explore the area's green space, including The Yards Park and its series of mod outdoor rooms, and dramatic bridge, local businesses and the neighborhood's blossoming dining scene. Grab your friends and your camera (or your phone) and join us!
2 p.m. | Free
Meetup location TBD
•••
Tudor Place's 25th Annual Garden Party – May 24
Support one of DC's longest-standing and visually appealing properties during this annual garden party. Tudor Place welcomes guests to its gorgeous grounds for an evening of socializing, with buffet dinner and drinks available for all. Wear your finest garden party garb and revel in warm weather as you wander Tudor Place's gardens and South Lawn.
6 – 9 p.m. | Tickets
Tudor Place, 1644 31st Street NW, Washington, DC 20007
•••
Memorial Day Weekend Festivities – May 26-29
The nation's capital knows how to kick off summer. Memorial Day weekend is packed with fun in the District, with a parade, a motorcycle rally, a concert, Major League Baseball, a choral festival, live music and much, much more all on the docket for the long weekend. Check out all the things to do during Memorial Day Weekend start planning an unforgettable holiday trip to DC.
•••
Kennedy Center Open House: Celebrating JFK at 100 – May 27
The Kennedy Center's doors open wide for this day full of free performances that will feature street art, hip-hop, skateboard culture and the classic and contemporary arts, all in one place. Dance troupes will show off their skills, a skate park and music stage will be open on the plaza and a UK spoken word artist will perform. The National Memorial Day Choral Festival will also take place in the Concert Hall.
12 p.m. | Free admission
•••
JFK Centennial Celebration – May 29
The Opera House at the Kennedy Center plays host to this grand finale celebration, held on the actual day of JFK's 100th birthday. The large-scale show will be studded with stars and will honor the ideals of President Kennedy in spectacular fashion. More program details for this free performance will come at a later date.
7:30 p.m. | Free admission
'Amazon Adventure 3D' – Through May 18
The Samuel C. Johnson IMAX Theater at the National Museum of Natural History screens this exciting 3D adventure that details the true story of Henry Bates and his 11-year journey through the Amazon rainforest in the 1850s. Experience Bates' incredible discoveries in animal mimicry and camouflage, which gave way to the idea of Natural Selection. Admission to the museum is free, but tickets are required to attend screenings.
Tickets
Samuel C. Johnson IMAX Theater, National Museum of Natural History, 10th Street & Constitution Avenue NW, Washington, DC 20560
• • •
Jun Kaneko Exhibition – Through May 22
The ceramic sculpture work of Japanese-American visual artist Jun Kaneko is currently featured inside the Kennedy Center's Hall of Nations. These sculptures, which are part of Kaneko's HEADS series, balance both Japanese and American influences to great effect. Kaneko is also responsible for the sets and costumes for the Washington National Opera's production of Madame Butterfly, which opens at the Kennedy Center on May 6.
Exhibit opens at 10 a.m. | Free admission
John F. Kennedy Center for the Performing Arts, 2700 F Street NW, Washington, DC 20566
• • •
'American Visionary: John F. Kennedy's Life and Times' – May 3 – Sept. 17
Before JFK, no politician had been photographed with such frequency. This new exhibit at the Smithsonian American Art Museum pulls from several libraries to showcase the incredible life that Kennedy had, from his war hero days to his tragic death in Dallas on Nov. 22, 1963. Some photos in the display are iconic, while some have never been seen in public before. The exhibit is based on the forthcoming book, JFK: A Vision for America.
11:30 a.m. – 7 p.m. | Free admission
Smithsonian American Art Museum, 8th and F Streets NW, Washington, DC 20001
• • •
'IDENTIFY: Wanda Raimundi-Ortiz' – May 6
Wanda Raimundi-Ortiz participates in the National Portrait Gallery's IDENTIFY series, which showcases performance art with a purpose. Ortiz will articulate the effect of gun violence through the lens Michelangelos' Pietà, with live music as accompaniment. The performance will meditate on loss, but will also provide inspiration for resilience. The performance is free to attend.
4 – 5:30 p.m. | Free admission
National Portrait Gallery, 8th and F Streets NW, Washington, DC 20001
• • •
'Down These Mean Streets: Community and Place in Urban Photography' – May 12 – Aug. 6
The Smithsonian American Art Museum focuses on 10 essential photographers in this in-depth exhibit that highlights the changes that urban communities underwent in the 1950s. From New York to Los Angeles, photogs captured the reshaping of these neighborhoods, from communal efforts to establish identity to the decay caused by neglect. The work of documenters such as Manuel Acevedo, Oscar Castillo, Hiram Maristany and Frank Espada, among others, will be displayed.
11:30 a.m. – 7 p.m. | Free admission
Smithsonian American Art Museum, 8th and F Streets NW, Washington, DC 20001
• • •
'America Collects Eighteenth-Century French Painting' – May 21 – Aug. 20
Joseph Bonaparte, elder brother of Napoleon, brought an extensive collection of 18th century French paintings with him to America. The works caused a sensation after being shown to the public, leading to a new fascination with French art in this country. The National Gallery of Art gathers 68 paintings that represent some of the most outstanding and unconventional French works of the time period in this new exhibit.
Hours | Free admission
National Gallery of Art, 6th and Constitution Avenue NW, Washington, DC 20565
• • •
'Sharks' – May 24 – Oct. 15
One of the season's most anticipated exhibits comes to the National Geographic Museum. More than 100 million sharks are killed each year, endangering the species. Photographer Brian Skerry's work shows how integral sharks are to our ecosystem and that humans should do whatever it takes to preserve and appreciate the creatures. The immersive display also includes interactive experiences, artifacts, videos and models.
10 a.m. – 6 p.m. | Tickets
National Geographic Museum, 1145 17th Street NW, Washington, DC 20036
• • •
'Donald Sultan: The Disaster Paintings' – May 26 – Sept. 4
In the first exhibition to focus on the most respected works of Donald Sultan's career, visitors can experience the mind-bending dichotomies shown in Disaster Paintings. Sultan used images from the daily newspaper, as well as materials like tar and Masonite tiles, to create works that highlight just how fragile man-made structures such as industrial plants and cars truly are. You will be struck by the detailed darkness of Sultan's pieces while also contemplating exactly what Sultan wanted you to: the cycle of life and death.
11:30 a.m. – 7 p.m. | Free admission
Smithsonian American Art Museum, 8th and F Streets NW, Washington, DC 20001
• • •
'Markus Lüpertz' – May 27 – Sept. 3
The famous German artist Markus Lüpertz is given a comprehensive exhibit consisting of more than 40 works inside America's first museum of modern art. The exhibition will trace the artist's career from the 1960s to the present, showcasing his innovative "dithyrambic" picture style and innovative paintings of German motifs. Also be sure to check out the Hirshhorn's corresponding exhibit on Lüpertz, which opens May 24.
Hours & Admission
The Phillips Collection, 1600 21st Street NW, Washington, DC 20009
Washington National Opera: 'Madame Butterfly' – May 6-21
Giacomo Puccini's classic opera comes to the Kennedy Center stage for a two-week run this May. This tragic tale follows an American naval officer and his affair with a young geisha, whom he wishes to wed. However, the officer betrays her, leading to one of the intense and devastating climaxes in the history of opera. Jun Kaneko (who currently has an exhibit at the Kennedy Center) provided the stunning sets and costumes for this production that is sure to wow audiences.
Tickets
John F. Kennedy Center for the Performing Arts, 2700 F Street NW, Washington, DC 20566
• • •
'Timon of Athens' – May 9 – June 11
Shakespeare's satirical side comes to the Folger Theatre. Timon is a wealthy and well-liked aristocrat who loves to spend money on parties, gifts and charity. However, the pratfalls of celebrity and wealth bring Timon down, leading to a swift change in lifestyle and attitude. Helen Hayes Award-winner Ian Merrill Peakes stars in this hilarious cautionary tale.
Tickets
Folger Theatre, 201 East Capitol Street SE, Washington, DC 20003
• • •
'Jesus Christ Superstar' – May 9 – July 2
One of the most famous plays of the last fifty years gets a modern remake at Signature Theatre in Arlington, VA. The legendary music of Andrew Lloyd Webber and Tim Rice narrates the story of Jesus Christ, which inherently touches upon celebrity, faith, passion and betrayal. Expect classic songs such as the title track, "I Don't Know How to Love Him," "Everything's Alright" and many more.
Tickets
Signature Theatre, 4200 Campbell Avenue, Arlington, VA 22206
• • •
'Nearly Lear' – May 12-14
Shakespeare performed by one woman? Sign us up. Susanna Hamnett plays the Fool, telling the story of King Lear as his closest companion. Hamnett takes on the role of every character in the play, using the Bard's language to tell strikingly poignant stories. Praised by The New York Times, this performance incorporates humor, emotion and even the audience in a riveting 75-minute tour-de-force.
Tickets
John F. Kennedy Center for the Performing Arts, 2700 F Street NW, Washington, DC 20566
• • •
'Titus' – May 20-21
This play geared towards youngsters (but enjoyable for all) concerns Titus and his incredible mind. Immersed in an unhappy family life, Titus creates outlandish stories to escape his difficult reality. The playful one-man show dives deep into dealing with loss and loneliness, and how we can rise above struggles to truly connect with others. Written by Belgian writer Jan Sobrie, Titus is considered one of Europe's most successful plays for children.
Tickets
John F. Kennedy Center for the Performing Arts, 2700 F Street NW, Washington, DC 20566
• • •
'Mouth Open, Story Jump Out' – May 20-28
The Kennedy Center hosts its third one-person show in the month of May with this production that originated in the UK. Polarbear, a spoken word artist, weaves tales of secret codes, assassins and boa constrictors, showing how the power of storytelling changed his life after the disappearance of his father. The entire family will enjoy Polarbear bringing his vibrant imagination to life on stage.
Tickets
John F. Kennedy Center for the Performing Arts, 2700 F Street NW, Washington, DC 20566
• • •
'Hir' – May 22 – June 18
The politics of gender take center stage in this dark comedy from Woolly Mammoth Theatre Company. Isaac returns home from war to find his parents have split, with his mother fighting patriarchy in full force and his father wearing clown makeup while being force-fed estrogen pills. Meanwhile, his sister is now a genderqueer anarchist, adding to the upside-down world he has returned to. Humor abounds in this zany tale that asks how families handle political divisions of the most extreme order.
Tickets
Woolly Mammoth Theatre, 641 D Street NW, Washington, DC 20004
• • •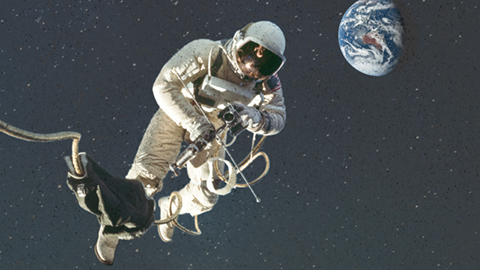 The Washington Ballet Presents 'Frontier' – May 25-27
The Washington Ballet's Artistic Director, Julie Kent, will present her first-ever commissioned work during this Kennedy Center production. Kent's piece is heavily inspired by President Kennedy and his desire to make America an artistic, cultural and intellectual power, including his determination for the U.S. to be the first country to put a man on the moon. Choreographer Ethan Stiefel actually met with members of NASA to discuss space travel, so movements will be inspired by the concept of "zero gravity." Another unique aspect: the lead astronauts will be played by women. This production will also feature pieces choreographed by Antony Tudor and Sir Frederick Ashton.
Tickets
John F. Kennedy Center for the Performing Arts, 2700 F Street NW, Washington, DC 20566
• • •
'The School for Lies' – May 30 – July 2
Tony Award-nominee David Ives uses Molière's classic The Misanthrope to perfection in creating this searing satire that calls current events to mind. Frank is a French aristocrat who loves telling the truth and criticizing his fellow socialites for their rampant lies. His barbs are successful until the rumor mill runs wild, turning "alternative facts" into reality. Ives' modern update of Molière and Shakespeare Theatre Company's awesome cast will have you rolling in the aisles.
Tickets
Lansburgh Theatre, 450 7th Street NW, Washington, DC 20004
Brian Wilson Presents 'Pet Sounds': The Final Performances – May 4
Brian Wilson is a living musical genius, and 1967's Pet Sounds is arguably his greatest accomplishment. The album reimagined rock music for an entire generation, and in honor of its 50th anniversary, Wilson is performing all the classic songs for a final time on an extensive world tour. He'll be at Lincoln Theatre for two nights, but the May 3 show has already sold out. Purchase your tickets ASAP and pay witness to a legend performing his most legendary compositions.
8 p.m. | Tickets
Lincoln Theatre, 1215 U Street NW, Washington, DC 20009
• • •
Black Lips – May 6
Black Lips are the definition of rock and roll. Describing their attitude as "carefree" would be putting it lightly, as the band's live shows are raucous affairs filled with NSFW-antics. Although the band has lightened up a bit from their early days, one can still count on plenty of dance-worthy ear candy and onstage hilarity at The Black Cat this May. With a new album on the way, you'll hear new songs mixed with classics like "Bad Kids," "O Katrina!" and "Raw Meat".
8 p.m. | Tickets
The Black Cat, 1811 14th Street NW, Washington, DC 20009
• • •
Kris Kristofferson – May 11
One of modern folk music's ultimate luminaries, Kris Kristofferson is also an ardent activist and has even dazzled audiences on the big screen. In a career spanning nearly 50 years, Kristofferson has performed all over the world, rarely slowing down. He now performs primarily solo with an acoustic guitar, revealing his years of fascinating experiences through song. Check this living legend out at Warner Theater this May.
8 p.m. | Tickets
Warner Theatre, 513 13th Street NW, Washington, DC 20004
• • •
Halcyon Stage at Dock 5: BalletX performing to music of Amy Winehouse & indie-rock band Beirut – May 13
Philadelphia-based BalletX is one of the country's most innovative ballet companies, combining artistic forms to magnificent effect. This month, DC's Halcyon Stage at Dock 5 presents an evening of performances from BalletX that will incorporate the unforgettable music of Amy Winehouse and the whimsical indie pop of Beirut in two separate compositions. Marvel at the artistry on display, which will feature stunning choreography and powerful emotion.
8 p.m. | Tickets
Dock 5 at Union Market, 1309 5th Street NE, Washington, DC 20002
• • •
Perfume Genius – May 15
Perfume Genius (real name: Mike Hadreas) creates some of the most idiosyncratic and distinctive music in indie rock today, standing out as an LGBTQ artist unafraid to address controversial issues head on. His first two albums featured heart-wrenching and intimate songs consisting, mostly, of the artist's voice, piano and resounding silence. 2014's Too Bright saw the Genius expand his sound, with Bowie-esque stompers and creepy synths decorating Hadreas' complex lyrics. His newest album, No Shape, is set for a May 5 release, and the two singles from the album show Hadreas taking the sound of Perfume Genius to even greater heights. Expect a performance worthy of glory at the 9:30 Club on May 15.
6 p.m. | Tickets
9:30 Club, 815 V Street NW, Washington, DC 20001
• • •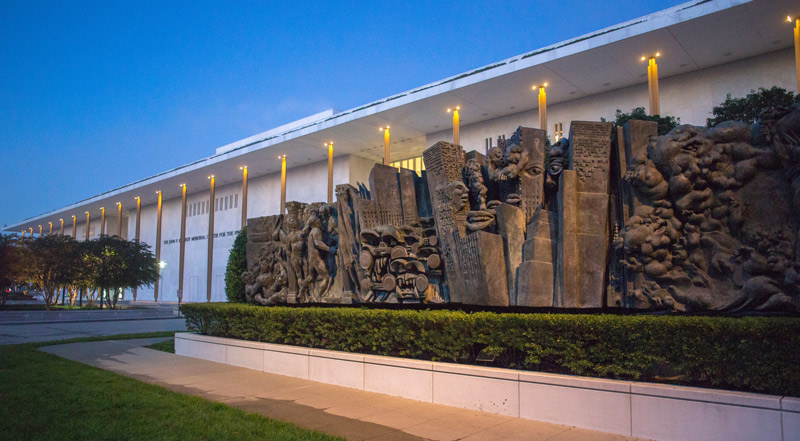 Mason Bates's KC Jukebox: Thievery Corporation – May 15
Kennedy Center's composer-in-residence Mason Bates begins this evening with instrumental, electronic stylings before DC's very own Thievery Corporation takes the stage. The duo will play their bossa nova-inspired music, as well as new songs commissioned from current classical composers making waves. The concert hall will be filled with grooves for this Monday night show, which features both a 7 p.m. and 9:30 p.m. performance.
7 p.m. & 9:30 p.m. | Tickets
John F. Kennedy Center for the Performing Arts, 2700 F Street NW, Washington, DC 20566
• • •
The Weeknd – May 18
Over the last several years, The Weeknd has gone from a critically acclaimed R&B artist to one of the biggest pop stars in the world, accruing Grammy Awards and platinum sales. The Canadian singer released Starboy last fall, after the immense success of 2015's Beauty Behind the Madness and the track "Can't Feel My Face". He now embarks on his first world tour, which will bring him to a lively Verizon Center on May 18.
7:30 p.m. | Tickets
Verizon Center, 601 F Street NW, Washington, DC 20004
• • •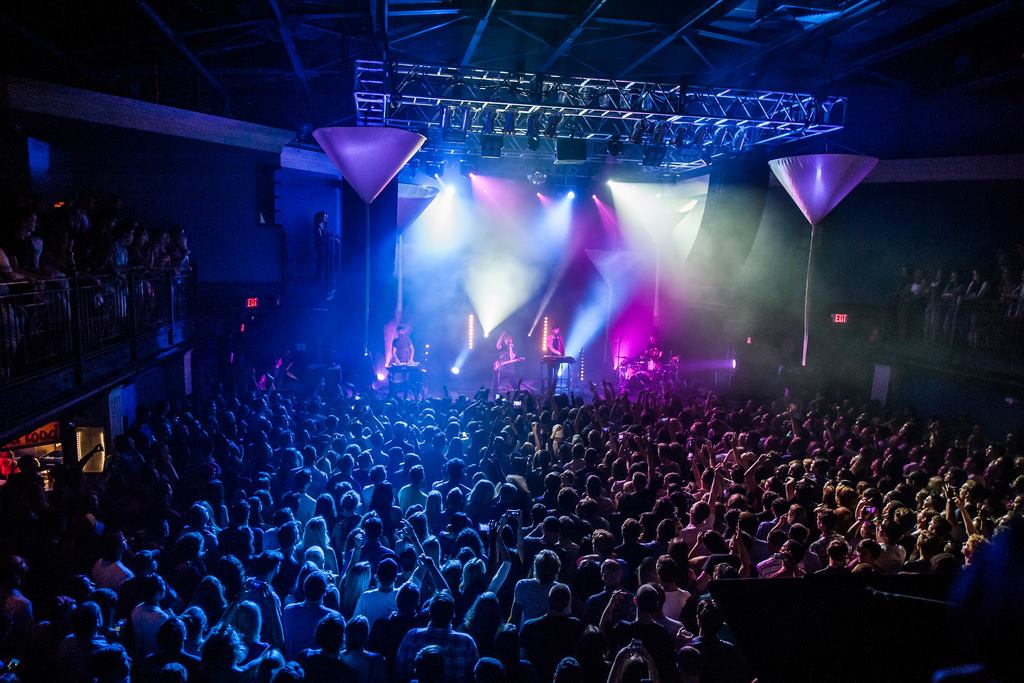 Animal Collective – May 22
If you've followed independent music in the past decade, Animal Collective been firmly on your radar. Currently a trio, the group has been making mind-bending albums since the dawn of the 2000s, taking listeners on a rollercoaster ride from the tribal acoustic zaniness of 2004's Sung Tongs to the pulsing synth breakthrough of 2009's Merriweather Post Pavilion to last year's sci-fi-inspired Painting With. Hailing from Baltimore, MD, Animal Collective regularly fills area venues, so expect an enthusiastic and dance-ready crowd for this Monday night show.
7 p.m. | Tickets
9:30 Club, 815 V Street NW, Washington, DC 20001
• • •
Mac DeMarco – May 23-24
Mac DeMarco has gone from playing slow cooking jams imbued with jazz and funk grooves at DC9 to filling 9:30 Club with songs that invoke comparisons to The Beatles and Prince. The Canadian creative is known for his gap-toothed smile, unique style and playful attitude, but above all, he is one of the best songwriters in music today. Queue up Spotify or iTunes, bask in Mac, then purchase tickets to one of two shows (or both – you may like him that much) at DC's legendary music venue late in May. They say Memorial Day is the true start of summer, but Mac's performance will have you feeling easy-living vibes well before that.
7 p.m. | Tickets: 5/23 & 5/24
9:30 Club, 815 V Street NW, Washington, DC 20001
• • •
National Symphony Orchestra: John F. Kennedy Centennial Celebration with Yo-Yo Ma – May 24
Yo-Yo Ma is one of the most successful musicians in the world, a cellist with more name recognition than most in the classical music genre. He'll join the National Symphony Orchestra in honoring John F. Kennedy during this one-time-only concert. The Orchestra's composer-in-residence, Mason Bates, will also debut a new program during the performance.
8 p.m. | Tickets
John F. Kennedy Center for the Performing Arts, 2700 F Street NW, Washington, DC 20566
• • •
#MyDCcool Photo of the Month
Make sure to share your DC photos with us using #MyDCcool, and we may feature yours next month!
For more events, festivals and things to do in Washington, DC, check out our events calendar.