You are here
10 Organized Races, Marathons & Triathlons to Check Out in Washington, DC
10 Organized Races, Marathons & Triathlons to Check Out in Washington, DC
Discover DC during these organized races, marathons and triathlons
Whether you're a serious runner or like to stay active while having fun with friends, DC has options for all fitness levels.
1
Cherry Blossom 10 Mile Run
Step into spring with the Credit Union Cherry Blossom 10 Mile Run. Arguably one of the prettiest races in DC, the run is timed to take place during the cherry blossom season during late March or early April and loops around the Tidal Basin and East Potomac Park. The run is in high demand, and to avoid overcrowding, the National Park Service limits the number of entrants to 15,000. Sign up online to be included in the entry lottery.
2
Rock and run during the Rock 'n' Roll Marathon
You won't need your running playlist to stay motivated during this marathon, half marathon or five-kilometer race. Runners descend on DC during March for the popular Rock 'n' Roll Marathon where participants are serenaded by live bands and cheer teams positioned along the course. Celebrate crossing the finish line with a post-race festival and concert.
3
Sprint through the Nationals Park Spartan Race
Spartan Race, Inc. hosts this Reebok Spartan Sprint inside the majestic Nationals Park on July 22. Registration for racers is open, and you can pay just $10 to attend as a spectator. With 20 or more obstacles spread out across the 3-5 mile race, contestants will be put to the test inside one of the city's most beautiful venues.
4
Be a rainbow runner at The Color Run
The Color Run
Thousands of people worldwide have participated in this fun five-kilometer run where you start dressed in white and finish covered in color. The Washington, DC event takes place at National Harbor in September. Registration includes a t-shirt so you can embrace the colorful powder and not worry about your clothes.
5
Run, swim and bike DC
For most of the year the Potomac River calmly snakes its way through DC, until participants dive in for an 800-meter or 1500-meter swim during the Events DC Nation's Triathlon. Taking place every September, the course has both Sprint and Olympic lengths and winds past monuments and historical landmarks. It's an adrenalin-pumping way for both locals and visitors to experience the city.
6
Brave the Ragnar Relay
Running 197 miles in two days is the challenge that faces participants in the Reebok Ragnar Washington, DC. They don't have to do it alone though, participants run relay-style in teams of 12 with each runner covering around 17 miles over three legs while their team follows in a support van. The DC Rangar starts in Cumberland, Maryland in September and takes in forest trails and historic towns en route to the nation's capital.
7
Race with the Marine Corps
Marine Corps Marathon
The Marine Corps Marathon is now in its fourth decade and is considered one of the best marathons for families and beginners. Unlike most races it doesn't offer prize money; instead the October event is a celebration of the courage and commitment it takes to train for and complete a marathon. It's also a chance to see the Marines in action doing everything from race operations, security and playing in the Marine Corps Band.
8
Get 'pumped' for the Great Inflatable Race
You don't just run the five-kilometer Great Inflatable Race, but dodge, push, jump, slide and scramble through creative inflatable obstacles. Teams are encouraged, so get your friends and family involved. You might just need them to help get over some of the obstacles.
9
Hit your stride in the Navy-Air Force Half Marathon
One of the coolest ways to begin a race is to start it right near the Washington Monument, which is what the thousands of runners participating in this year's Navy-Air Force Half Marathon will do on Sept. 17. Founded 14 years ago, this race used to be much shorter, when it was known as the Navy 5 Miler. Due to popularity, and perhaps accolades referring to DC as one of America's fittest cities, the race grew into a half marathon which winds around some of the most iconic sights, and includes long stretches through Rock Creek Park. The mission of the Navy-Air Force Half Marathon is to support the military audience while building a sense of community, positive values and family well-being.
10
Warm up at the Ugly Sweater Run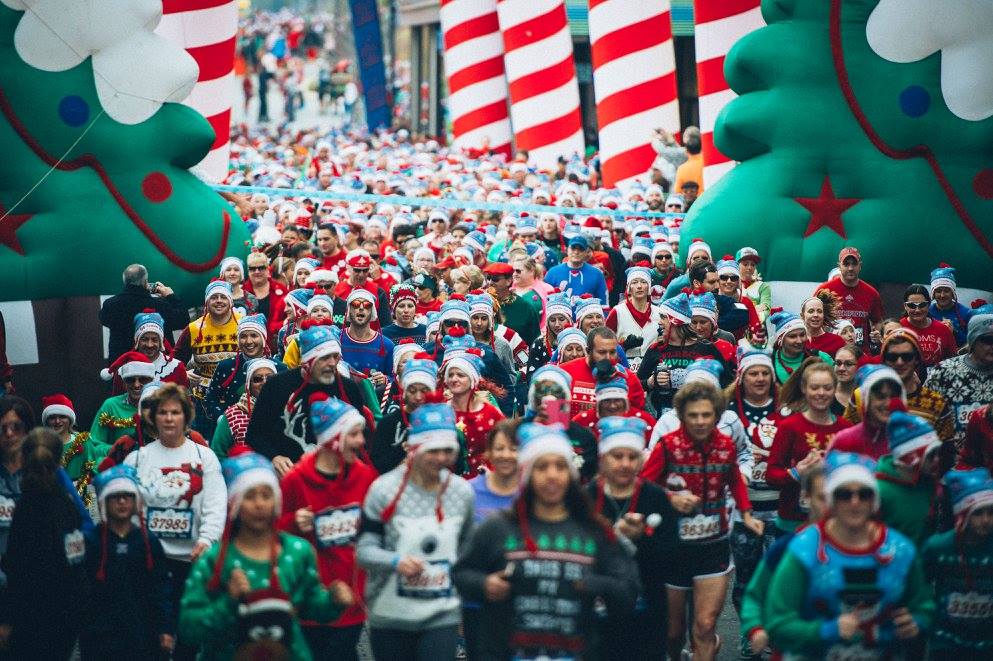 This annual December fundraiser celebrates the holiday season by encouraging entrants to rummage up the ugliest sweater they can find for the five-kilometer Ugly Sweater Run. Prizes are awarded for Best Ugly Sweater, Best Kids Sweater, Best Pet Attire and Best Real/Fake Mustache/Beard.
Stay on your fitness kick in Washington, DC. Check out these other great ways to work out in the city.