You are here
What to Do on a Snow Day in Washington, DC
What to Do on a Snow Day in Washington, DC
Even major blizzards don't stop District residents and visitors from donning their snow gear and taking to the streets to play.
In Washington, DC, there's a snowball fight association, sleds are MacGyvered to great (and not so great) effect and legendary restaurants and bars dare to deliver a cozy ski lodge atmosphere 70 miles from the nearest slopes.
Here are a few must-dos the next time you encounter a snowstorm in the nation's capital, and remember to be careful when venturing out into the cold:
1
Sled with monuments as your backdrop
Bill Couch
If only Washington, DC had a well-known hill to sled down. Oh wait, it does. Take to Capitol Hill's namesake for a once-in-a-lifetime, Congressionally-backed sledding experience. Kids and thrill seekers can continue down different slopes in the District at Rock Creek Park. Bring your sled to the corner of Connecticut Avenue and Calvert Street, where steep hills descend from the nearby Omni Shoreham Hotel all the way down to the park. Great views of the Taft Bridge add to a majestic wintery scene.
Peak your interest: True speed demons will want to check out DC's highest point, Fort Reno, in Upper Northwest.
2
Snap some scenic photos
Layer up with your camera in tow and capture the various scenes around Washington, DC. From scenic views of the National Mall or Rock Creek Park blanketed in snow to urban scenes, like DC street murals or the C&O Canal in Georgetown, the city looks stunning as ever. Even if you only take pictures with your cell phone, the trip alone is worth it.
A decent exposure: While they're incredibly picturesque, snow-covered sights can be very bright in daytime and difficult to capture on camera. Check your camera's exposure dial and turn it up by +1 or +2 to manually correct exposure levels.
3
Ice skating
Sam Kittner / Georgetown Business Improvement District
One easy thing to do in the nation's capital is rent a pair of ice skates. That's because the city hosts three very different, awesome ice rinks. Glean everything you need to know about each experience from our piece on where to ice skate in DC.
Go figure: Located near Nationals Park in Capitol Riverfront, the Canal Park ice rink sets itself apart from its two other rinks with a figure eight-style track. The rink boasts another snow day bonus: nearby beer-friendly diversions, including Gordon Biersch and Bluejacket Brewery.
4
Snowball fights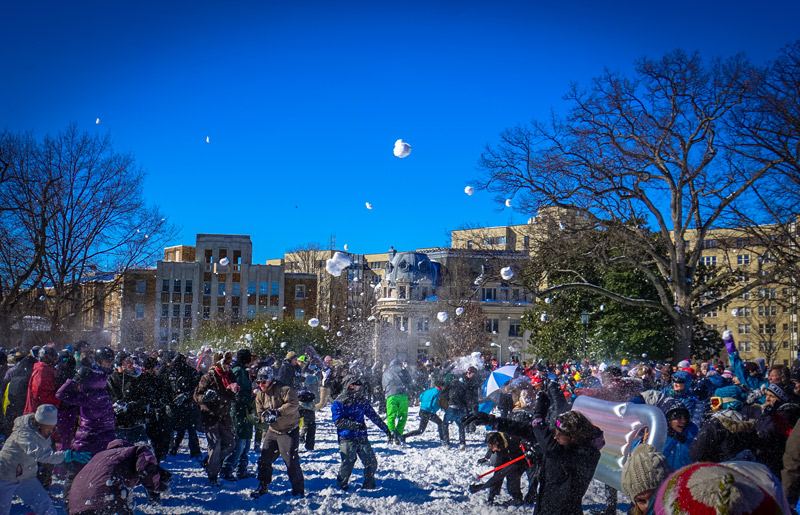 After attracting only a handful of people for a snowball fight in December 2009, DC resident Michael Lipin realized he'd have to up the ante the next time the forecast called for snow. And did he ever. Lipin and friend Ami Greener took to Facebook, informed radio and news stations and used word of mouth to attract 3,000 or so-called "snow elves" for a snowball fight of epic proportions.
Making it official: The success of the snowball fight marked the beginnings of the Washington DC Snowball Fight Association, which has kept busy every winter since.
5
Bars and restaurants
A full range of restaurants and bars around the city regularly offer snow day specials, such as early openings, happy hours and select food and drink discounts. Some of the local favorites who have offered deals in the past include Hill Country Barbecue in Chinatown, Osteria Morini in Capitol Riverfront, Jack Rose in Adams Morgan and Meridian Pint in Columbia Heights.
Come in from the cold: Penn Commons in Penn Quarter is a perfect place for a snow day pint, and Room 11 is a comfortable neighborhood locale on 11th Street in Columbia Heights that serves up delicious grilled cheeses.
When the snow falls, Washington, DC is a winter wonderland. Check out our ultimate guide to winter in DC for even more fun.