You are here
13 Places to Watch Football in Washington, DC
13 Places to Watch Football in Washington, DC
These bars and restaurants draw sports-loving crowds with huge TVs, free-flowing beer and oodles of team spirit.
'Tis football season, which means it's time to cozy up to a bar rocking your favorite team's colors, order up a brew and some apps and get to cheering (and shaking nervously during the biggest moment of the game). We've compiled plenty of great sports bars that will only increase the pleasure of football-watching once you arrive.
1
Penn Social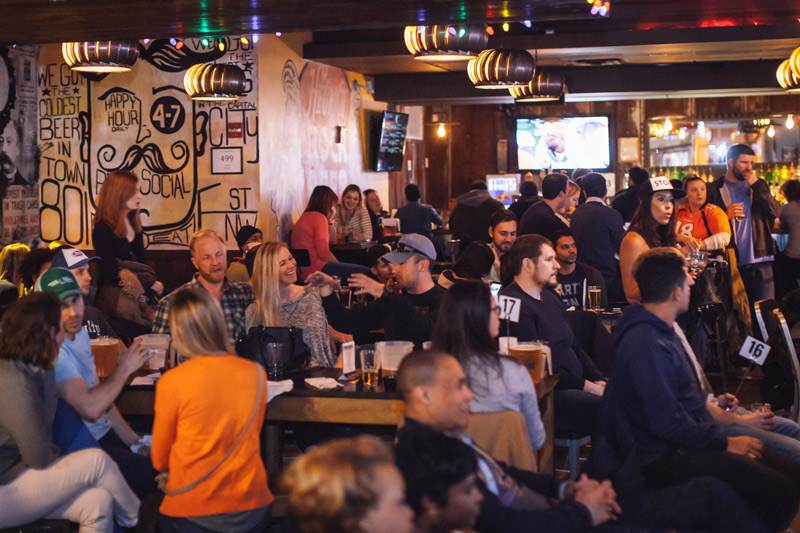 Located just a few blocks from the Capital One Arena, this 13,000 square-foot subterranean spot is a fun place for sports thanks to a game-focused setup that includes trivia nights, cornhole leagues, beer pong tournaments, shuffleboard, foosball and giant Jenga. But on game days, you can catch the action on a huge 22-foot movie screen, plus lots of other games on nine 10-foot screens around the space.
2
High Velocity
Found inside the Marriott Marquis Washington, DC, this vibrant sports bar should be at the top of your list for catching the season's biggest football games. 40 large flat-screen HDTVs line the walls, and you can settle in with your pals at the communal tables. The bar menu has everything you could possibly ask for, while a selection of nearly 50 beers on tap (from imports to local favorites) means you're set up for quite an afternoon or evening of sports-watching bliss.
3
Penn Commons
Penn Commons
Just steps away from Capital One Arena, this Penn Quarter bar screams "Sports Fan Heaven" as soon as you walk in the door. The circular bar is outfitted with high-def TVs, so you'll never have a problem catching game action. The jaw-dropping beer list is full of flavors and styles, and you will not want to miss out on spicy chili and garlic glazed wings or the shrimp and crab nachos. Happy hour runs from 4 p.m. until closing time on Saturday, and, wait for it: all day on Sunday.
4
City Tap House
This gastropub, located in the heart of Chinatown, provides plenty of craft beer, plenty of hospitality and a food menu plentiful with innovative takes on classic bar dishes (corn and crab hushpuppies, Korean short rib tacos, blue crab mac and cheese). Its rustic and open setting is perfect for kicking back and enjoying the big game.
5
Clyde's of Gallery Place
Clyde's has been a staple of DC since its Georgetown location opened in 1963, but this Gallery Place rendition dazzles upon entering. The two-level spot features three bars and a strong sports theme – a portrait of Babe Ruth greets you upon entering. Clyde's regulars rave about the chili, the Buffalo wings and the burgers, and don't be shy: friendly bartenders will flip over to your game upon request.
6
Buffalo Billiards
This enormous two-level bar bordering Dupont Circle offers big screens tuned to practically every game (no matter the sport), plus shuffleboard, darts, skeeball and pool for those who aren't into watching (or during a break in the action). Great happy hour specials and District Trivia Wednesdays are a special bonus.
7
The Prospect
The Prospect rapidly gained a following for its dedication to sports and a 150-seat interior (plus a 40-seat patio that overlooks U Street) adorned with sports memorabilia. The food is a modern, gourmet take on tailgating must-haves (hello, Peruvian chicken tacos and loaded nachos with venison chili) and the place offers a broad selection of beer, cider and cider-based cocktails. Oh, and the TVs. There are more than 40 HD flat screens can display gridiron action.
8
Nellie's Sports Bar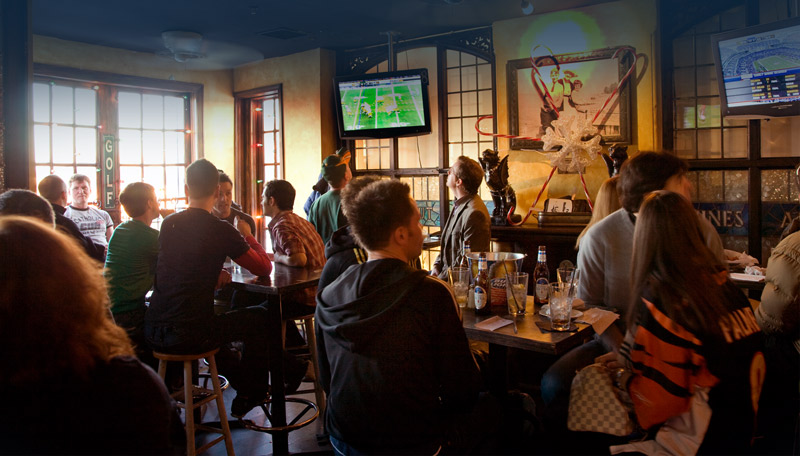 We're willing to wager that this is the only sports bar in town to host a jam-packed drag queen brunch each Sunday (it's also one of the city's top gay bars). But after the brunch crowd has gone home, the place reverts to one of the city's finest spots to root for your team. Multiple TVs on both floors mean you'll be able to catch a marathon of sports, including plenty of pigskin pageantry.
9
Meridian Pint
Neighborhood restaurant upstairs, sports bar downstairs. The Meridian Pint in Columbia Heights manages a trifecta of stellar beer (20-plus on tap and more than 50 by bottle), tasty food and a lively atmosphere. On weekends in the fall, the lower level sports bar shows NFL and college games on 12 screens.
10
Public Bar
Public Bar
Public Bar is three floors of game-watching bliss in Dupont Circle. Its main floor features 31 HDTVs and one of the largest HD projectors that you'll ever see in your life. The upstairs lounge has 13 HDTVs of its own, as well as lounge table seating with views of every screen. To cap it off, the rooftop deck is one of the largest in the city, with four HDTVs, cabana-style seating and bottle service Thursday – Saturday. Bar food, brews and great views? Sounds like football season to us.
11
Mackey's Public House
Mackey's Public House
This divey Metro Center bar was once known as Laughing Man Tavern, but now operates as Mackey's Public House. Buffalo Bills fans flock here on Sundays, and devoted followers of several college football programs call the bar home on Saturdays. However, its strong lineup of TVs means you can find the game of your choice, and a cavernous lower level features table games and a back room with a huge projector screen.
12
The Ugly Mug
With a newly renovated upstairs bar and a new menu influenced by Food Network Chef Alex McCoy, watching a game at The Ugly Mug is actually a beautiful proposition. The Barracks Row locale also knows how to celebrate the football season, as special food and drink menus exist precisely for game day revelry.
13
The Billy Goat Tavern
Originally founded in Chicago (with its staff's communication becoming the basis of a legendary Saturday Night Live skit), the Billy Goat Tavern is an ideal gathering place to enjoy burgers, beers and ball. Neighborhood vibes pervade, with friendly bartenders and even friendlier prices. Conveniently located near Union Station, you can watch a game here and feel right at home, even if you're from out of town.
Game's over, but your thirst for sports isn't? Check out all of your sports and outdoor recreation options in DC.