You are here
20+ Plays to Check Out This Fall in Washington, DC
20+ Plays to Check Out This Fall in Washington, DC
A new season of critically acclaimed productions, including Broadway-bound musicals and cutting-edge dramas, comes to the District.
DC is home to a range of prestigious theater venues, from the majestic Kennedy Center to the historic Ford's Theatre and the innovative Woolly Mammoth Theatre. Read up on what a selection of the District's playhouses are offering this fall.
Numerous DC theaters offer discounted tickets on their standout fall plays during this theatreWeek, which runs from Sept. 19 through Oct. 1. Visit todaytix.com to browse offers and purchase tickets or download the app to take full advantage of discounts.
• • •
Washington National Opera: 'Aida' – Sept. 9-23
Giuseppe Verdi's classic opera comes to the Kennedy Center's Opera House for two weeks this September. The title character is enslaved by Egyptians, but finds herself falling in love with military hero Radamès, who has also drawn affection from the King of Egypt's daughter. What Aida's captors don't know: she's an Ethiopian princess and daughter of their adversary. Difficult choices abound in this love triangle, beautifully articulated through unforgettable music. The Sept. 23 performance will be simulcast at Nationals Park during M&M's Opera in the Outfield (free admission to the Park).
Tickets
• • •
'Wilderness' – Oct. 12-15
The real-life stories of six American families are the source material of this production that doubles as a multimedia documentary. En Garde Arts tackles issues of mental health, addiction, gender and sexual identity through projection design, video, choreography and a folk rock score. Altogether, Wilderness presents a searing portrait of what it's like to come of age in the 21st century.
Tickets
• • •
'The Book of Mormon' – Oct. 24 – Nov. 19
One of the most renowned musicals of the last decade, The Book of Mormon is a Tony Award-winning tale of two Mormon missionaries in Africa penned by the kings of irreverence, Trey Parker and Matt Stone (creators of South Park). Watch two knuckleheads stagger through misadventures and awkward situations as they attempt to spread the Word.
Tickets
• • •
Washington National Opera: 'Alcina' – Nov. 4-19
This tale of Alcina, a sorceress who, when tired of her subjects, turns them into stone or beasts, will bring all kinds of magic to the Kennedy Center this November. Handel's baroque opera also encounters the knight Ruggiero, who just might be Alcina's match. Eisenhower Theater hosts this tale of enchantment, seduction and fantasy.
Tickets
• • •
'Me … Jane: The Dreams & Adventures of Young Jane Goodall' – Nov. 18 – Dec. 10
Dr. Jane Goodall is perhaps the world's most famous conservationist and animal activist, and the Kennedy Center will welcome a new musical adaptation of her life as a child and how it influenced her incredible work. The entire family will love the tale of Jane and her toy chimpanzee, Jubilee. Together, the duo discovers why it's so important to care for all living creatures, with memorable songs guiding the way.
Tickets
• • •
The National Theatre
1321 Pennsylvania Avenue NW, Washington, DC 20004
'Mean Girls' – Oct. 31 – Dec. 3
The classic film from 2004 gets a musical adaptation this fall, with its pre-Broadway run launching in DC. Crafted by Tina Fey, with music written by her husband, Jeff Richmond, this production is sure to take the tale of Cady Heron and The Plastics to all-new heights. Tickets will be in very high demand, so purchase yours as soon as possible!
Tickets
• • •
'The Arsonists' – Sept. 5 – Oct. 8
Max Frisch's searing political drama comes to one of DC's leading theaters for cutting-edge plays. Originally written as a take on the rise of both Nazism and Communism, this tale follows main character Biedermann and his attempt to deal with sweeping societal changes. Now more pertinent than ever, this play will be both thought-provoking and laugh-producing.
Tickets
• • •
The Second City Presents 'Nothing to Lose (But Our Chains)' – Nov. 11 – Dec. 31
Comedian Felonious Munk stars in this hilarious production that incorporates his own backstory. From the creators of last year's Black Side of the Moon, which was a huge hit for Woolly Mammoth Theatre Company, comes this tale of an African-American man who went from six years in prison to a six-figure job to a career in satire and activism. Expect laughs and plenty of thought-provoking moments in this new play.
Tickets
• • •
Arena Stage
1101 6th Street SW, Washington, DC 20024
'Native Gardens' – Sept. 15 – Oct. 22
Neighbors clash in this cultural comedy that comes to Arena Stage, one of DC's most reputable playhouses. When Tania and Pablo move next door to DC couple Virginia and Frank, an epic battle ensues, filled with racial and political tension. Prepare for laughs as well as searing commentary on how cultures clash and come together.
Tickets
• • •
'The Pajama Game' – Oct. 27 – Dec. 24
A Golden Age musical filled with seductive dance numbers touches down at the acclaimed Arena Stage in late October. Follow the battle of the sexes that occurs inside The Sleep-Tite Pajama Factory. Expect outstanding choreography and plenty of laughs, especially during dance numbers like "Steam Heat" and "Hernando's Hideaway".
Tickets
• • •
'Nina Simone: Four Women' – Nov. 10 – Dec. 24
Nina Simone's voice was a pillar of the Civil Rights Movement, and this production explores the profound effect that the 16th Street Baptist Church bombing of 1963 had on Simone, her work and the nation as a whole. Featuring some of Simone's most powerful songs, audiences will be inspired by Christina Ham's journey into the psyche of an iconic artist and activist.
Tickets
• • •
Ford's Theatre
511 10th Street NW, Washington, DC 20004
'Death of a Salesman' – Sept. 22 – Oct. 22
Arthur Miller's classic is staged at the historic Ford's Theatre. Get to know Willy Loman, whose pursuit of the American Dream is coming to an end. Across 24 hours, Willy looks back on fatherhood, his marriage and his career, filled with regret over a life that he feels failed to meet his own expectations. He looks to his sons to fill the void. Don't miss this Pulitzer Prize-winning play while it's in the District.
Tickets
• • •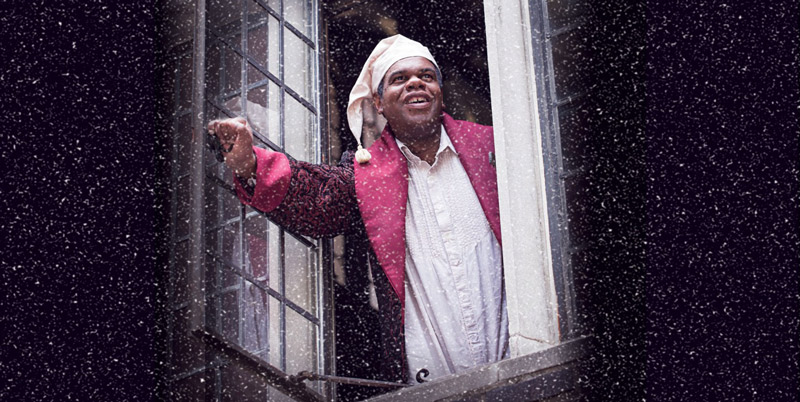 'A Christmas Carol' – Nov. 16 – Dec. 31
A Washington tradition for more than 35 years, acclaimed actor Craig Wallace assumes the role of Ebenezer Scrooge in a lavish Victorian-style musical production of Charles Dickens' timeless classic. Scrooge's riveting journey alongside the ghosts of Christmas Past, Present and Future is a joy even if you've experienced it a hundred times before – especially in one of the world's most historic theaters.
Tickets
• • •
Shakespeare Theatre Company
Lansburgh Theatre, 450 7th Street NW, Washington, DC 20004
Sidney Harman Hall, 610 F Street NW, Washington, DC 20004
'The Lover' and 'The Collection' – Sept. 26 – Oct. 29
Two plays from legendary playwright Harold Pinter will be performed at the Shakespeare Theatre Company's Lansburgh Theatre. The Lover concerns a couple planning infidelity, while The Collection finds a husband confronting a rival. Pinter's work will make you ponder the differences between reality and what we choose to believe in our everyday lives.
Tickets
Lansburgh Theatre, 450 7th Street NW, Washington, DC 20004
• • •
'Twelfth Night' – Nov. 14 – Dec. 20
One of Shakespeare's greatest heroines comes to life on the stage of Sidney Harman Hall. Twelfth Night is the tale of Viola, who shipwrecks on the coast of Illyria and quickly disguises herself as an assistant for one Duke Orsino. Soon enough, Viola is immersed in a love triangle, encountering other fascinating characters along the way. Considered one of the Bard's funniest plays, don't miss director Ethan McSweeny's imaginative take on a classic.
Tickets
Sidney Harman Hall, 610 F Street NW, Washington, DC 20004
• • •
Signature Theatre
4200 Campbell Avenue, Arlington, VA 22206
'A Little Night Music' – Through Oct. 8
The Signature Theatre, located just outside of DC, stages a Stephen Sondheim musical masterpiece that concerns a tangled web of love in 1900 Sweden. Winner of four Tony Awards, you'll be dazzled by this play that concerns a married virgin, an aging actress, an eager divinity student and a foolish count. Take in glorious renditions of songs like "A Weekend in the County" and "Send in the Clowns" as you savor an unforgettable night of theater that only a Sondheim play can give you.
Tickets
• • •
'An Act of God' – Oct. 3 – Nov. 26
David Javerbaum, winner of 13 Emmys (11 of which came during his time with The Daily Show), crafted this hilarious comedy about divine intervention. God returns to Earth, and he's taken the form of DC actor Tom Story. With archangels in tow, God provides a new set of Ten Commandments to unsuspecting Earthlings, and plenty of laughs to the audiences at Signature Theatre in Arlington, Va.
Tickets
• • •
'Crazy for You' – Nov. 7 – Jan. 14, 2018
The wonderful music of George and Ira Gershwin guides this Tony Award-winning holiday spectacular. When a banker heads to a small town to foreclose on its theatre, his love of music causes him to revive it instead of shut it down. Along the way, you'll encounter mistaken identities, a love story and a whole lot of 1930s flair. Prepare to tap your feet to numbers like, "I've Got Rhythm" and "Nice Work If You Can Get It."
Tickets
• • •
Folger Theatre
201 East Capitol Street SE, Washington, DC 20003
'Antony and Cleopatra' – Oct. 10 – Nov. 19
Folger Theatre will present this epic Shakespeare production in-the-round this fall. Mark Antony is at the height of his powers, but unable to decide between his torrid love affair with Cleopatra in Egypt and his duty to the Roman Empire. Filled with politics, romance and war, Antony and Cleopatra promises to be one of the most intense plays of the season.
Tickets
• • •
Studio Theatre
1501 14th Street NW, Washington, DC 20005
'Skeleton Crew' – Sept. 6 – Oct. 8
Playwright and Detroit native Dominique Morisseau wrote this heartfelt play that takes on issues in her own hometown. Three co-workers at Detroit auto-stamping plant – one pregnant, one planning for the future, one a long-time employee – worry about losing their jobs and a debt owed to them by their manager. Livelihoods are at stake in this intense production held at Studio Theatre.
Tickets
• • •
'Curve of Departure' – Nov. 29 – Jan. 7, 2018
On the night before a funeral, an entire family descends upon a single room in a New Mexico hotel. The future is not clear as the family discusses absentees and logistics. Playwright Rachel Bonds dives into the dynamic among family members, and how one decides how far they'll go to help someone they owe nothing to through meticulously crafted dialogue.
Tickets
• • •
The Keegan Theatre
1742 Church Street NW, Washington, DC 20036
'Stones In His Pockets' – Sept. 23 – Oct. 15
Comedy and drama come together in this Keegan Theatre production. Jake and Charlie meet while working as extras on a major American movie being filmed in Ireland. Jake had a rough few years in the U.S., while Charlie's video shop has gone under. The two welcome the movie as a break from life's stresses, but unfortunately, rural calamity sets in. Both laughs and tears are on tap for this tragicomedy.
Tickets
• • •
'Top Girls' – Nov. 4 – Dec. 2
Winner of the 1983 Obie Award for Best Play, Top Girls addresses issues of feminism and cutting family ties. Five women from the past are invited to a dinner party hosted by Marlene, the manager of the 'Top Girls' employment agency. The surreal scene includes an adventurer, a dedicated wife and even a transvestite Pope, as playwright Caryl Churchill dives into the lives of working women vastly different from each other.
Tickets
• • •
'The Devil's Music: The Life and Blues of Bessie Smith' – Through Sept. 24
Legendary blues singer Bessie Smith and her fascinating life and career are the focus of this Off-Broadway musical from Mosaic Theater Company. Miche Braden, reprising a role she originated, masterfully plays Smith in this story that reimagines the singer's final evening after her and her band were denied playing at a whites-only theater. Some of Smith's greatest songs are a part of the production, including "I Ain't Got Nobody," "St. Louis Blues" and "Tain't Nobody's Bizness If I Do".
Tickets
• • •
'Don Juan Tenorio, The Infamous Seducer of All Times' – Sept. 7 – Oct. 1
A cast of award-winning actors and actresses guides this searing new adaptation. Don Juan Tenorio is considered the ultimate seducer, a man whose romantic prowess leaves women in his wake. In this tale, the Don Juan is finally brought to his knees by everlasting love. Told in contemporary style with powerful and poetic dialogue at GALA Hispanic Theatre, this production promises to be one of the fall's hottest shows.
Tickets
Whether you're seeing a cutting-edge drama or the world premiere of a joyous musical that's Broadway-bound, experience wonder inside the acclaimed playhouses of Washington, DC.