You are here
12 Beer Gardens to Check Out In & Around Washington, DC
12 Beer Gardens to Check Out In & Around Washington, DC
Raise a stein of beer and take in the vibes at these brew-centric scenes.
DC's booming food and drinks scene is helping propel a buzzworthy beer community. Check out these open-air beer gardens in and around Washington, DC offering suds, snacks and convivial settings for downing a cold one al fresco.
1
Pretend you're in Munich on H Street NE at Biergarten Haus
Try steins of German brews and hearty food (sausage platters, sauerbraten) in this rustic indoor-outdoor bar and restaurant on H Street NE. The best seats are on the raised outdoor deck, where you can warm up with space heaters in milder temps. Frequent events include a weekly trivia night, European soccer matches on a jumbo-screen TV and seasonal doggie happy hours.
2
Hoist a stein to Elizabeth Taylor at Dacha Beer Garden
Underneath a glamorous wall mural of the sultry 20th-century movie star, this dog-friendly brewtopia and cafe in Shaw offers German, Belgian and American suds served in boot mugs at picnic tables on a gravel patio. Chow down from a full food menu peddling everything from monster pretzels and wurst five different ways to warm German potato salad with bits of bacon. Weeknight happy hour under twinkling strings of lights is particularly busy.
3
Get brew and 'cue on happening 14th Street
In warmer months (generally March through October), head to the snug cement patio at Garden District for German and American beers on draft, barbecue and a hopping social scene — especially on Sundays, when 14th Street bustles with brunchers. Besides its trademark pulled pork and brisket, the spot also serves up fried sides including half-sour pickles, buttermilk onion rings and addictive hush puppies.
4
Get your kicks at a busy rooftop biergarten
At the two-level German Sauf Haus Bier Hall & Garden in Dupont Circle, you can get your rooftop fix while also immersing yourself in beer garden heaven. A young, boisterous crowd shows up for brews on tap or in bottles, Bavarian fare like enormous pretzels and TVs tuned to big games. It all goes down in a smart-looking space with long, communal tables and exposed brick accents. You can also catch live acoustic sets on Thursdays.
5
Savor suds at NoMa's Wunder Garten
Wunder Garten brings an outdoor, pop-up brew patio to the NoMa 'hood. The beer menu sports local brews as well as German and Austrian flavors, and you can also order up wine, cider and snacks (chips or pretzels). The mod plaza is dotted with turf, potted trees and rough-hewn wooden tables, along with a fire pit that features a make-your-own-S'mores station in the fall.
6
Make it a marvelous evening at The Midlands
Located in Park View, The Midlands is outfitted with a host of picnic tables for you to settle in and bond over brews. The draft list features German and local beer, with rare bottles also available. Wine and cocktail lovers can also rejoice, as choices are plentiful. Snacks are offered, but you can bring your own food, too! The indoor portion also includes five TVs and two projection screens, for those wanting to check on a game.
7
Bring the crew to The Brig
Located in Capitol Hill's Barracks Row, The Brig goes all out, as a beer garden should. From its selection of 20 taps (including German and craft brews) to its giant mugs to its spacious environment to its 25-foot projector screen (great for watching can't-miss sporting events), you will be left wanting for nothing when you visit this outdoor haven. Pets are welcome, so gather up the troops for a big night at The Brig.
8
Live the salad days at Suburbia at Union Market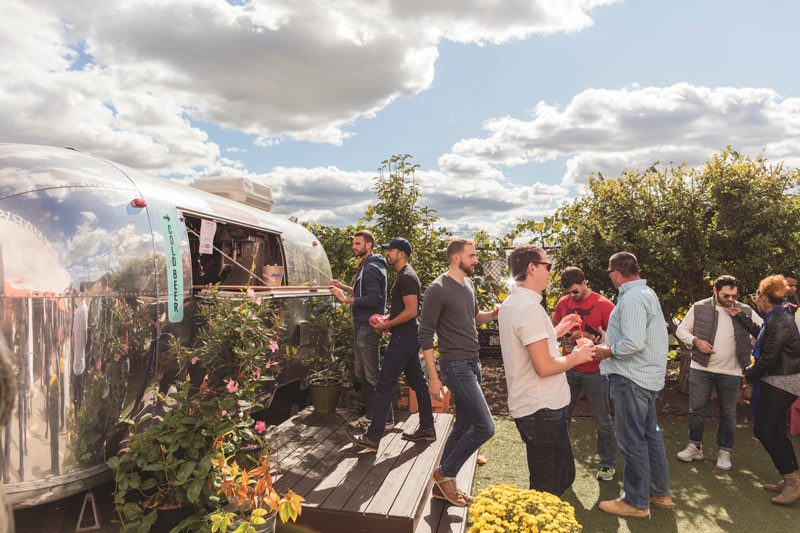 Suburbia is as distinct as pop-up beer gardens get. Picket fences and picnic tables segment off this slice of paradise, with 10 draft beers, frozen mixed drinks and two draft cocktails served from an airstream trailer, all crafted by mixology expert Gina Chersevani. You can also order up a bottle of rose, and if the kids are along, they can sip on delicious lemonade. Before or after, make sure to peruse the incredible offerings of Union Market.
9
Bike to grab beers at Bardo
This funky outdoor beer complex located at 25 Potomac Avenue SE offers a bevy of brewed-in-DC ales, riverside picnic tables and cornhole sets in a no-frills atmosphere. Lots of bicycle parking (plus an onsite repair shop), a dog park and a sandbox for kids gives it wide appeal among a diverse set of suds fans, while its proximity to Nationals Park and plenty of things to do in the Capitol Riverfront neighborhood makes it a favorite pre- and post-game spot.
10
Clear some time to congregate at Spider Kelly's in Clarendon
A quick trip to Clarendon in Virginia can bring you to the new beer garden at Spider Kelly's, a 300-seat patio with picnic tables, benches, bar stools and a fire pit in the fall. Grab a bucket of imported, canned beers for just $12 throughout the week (4 - 7 p.m., Monday - Friday, 11 a.m. - 5 p.m., Saturday - Sunday) or sip on sangria and wine by the glass for just five bucks, Monday through Friday (4 – 7 p.m.).
11
Don your relaxation cap at Denizens Brewing Company
Denizens Brewing Co.
A short trip to Silver Spring, Md. will bring you to Denizens Brewing Company, which sports a 200-seat beer garden that is dog-friendly. Choose from a wide variety of brews made by Denizens, and wash them down with their delectable bar food selections. The spot also frequently hosts live music and DJs, if you're looking to amp the night up a notch.
12
Wash away your worries at Westover
Westover Market Beer Garden
This beer garden is a favorite in Arlington, Va., a quick commute from DC proper. Six draft lines are situated outside, and you can also order delicious hot sandwiches made from the butcher shop inside. Surf the 'net via the on-site WiFi, except when you're jamming to one of the weekly live music performances. Westover also frequently hosts tap takeovers and beer tastings.
Looking for more outdoor eating and drinking fun in Washington, DC? Check out these rooftop bars and restaurants you have to experience.