You are here
100 Free & Almost Free Things to Do: Outdoor Activities
100 Free & Almost Free Things to Do: Outdoor Activities
Whether you want to be healthy or just catch some fresh air, experiencing the great outdoors in DC is worth the adventure.
When visiting the District, you should know you're entering a city where locals love to hike, walk and play outside. If you want to eat healthy, explore nature or tap into the city's local fitness bug, you can do it all in Washington, DC. Check out these great ideas of some free and fun outdoor activities.
1
Enjoy the serenity of the memorials and monuments at sunrise
November Project DC
Start with the sun behind you at the Grant Memorial (just in front of the U.S. Capitol), and jog the two miles down to the Lincoln Memorial, passing the Washington Monument and the National World War II Memorial along the way.
2
Pack a picnic or get lunch to-go at scenic Yards Park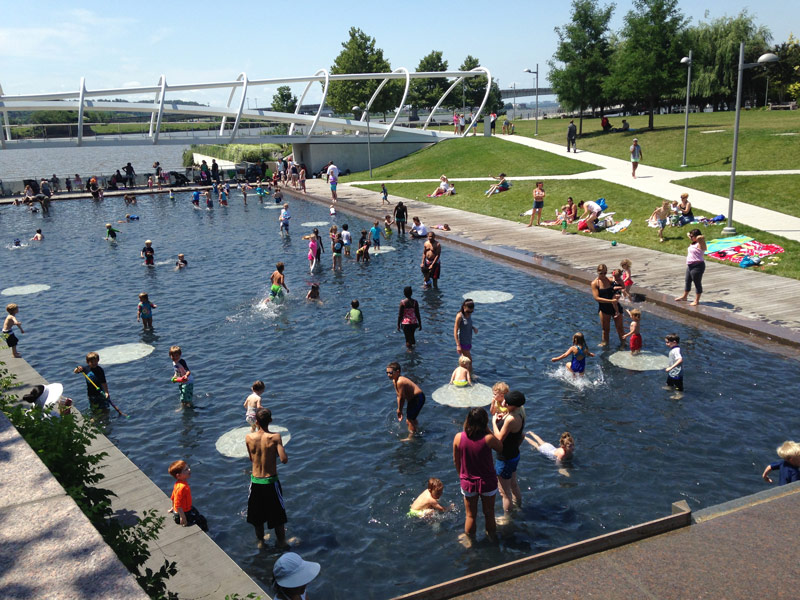 There's plenty of room to run and splash around Yards Park on the Capitol Riverfront, which is within walking distance of Major League Baseball's Washington Nationals.
3
Rent two wheels and bike all over the District
Rent some wheels from Capital Bikeshare or Bike and Roll and ride to Gravelly Point, a park area off the George Washington Memorial Parkway and Mount Vernon Trail, where airplanes zoom by on their way to and from Reagan National Airport.
4
No stair stepper, no problem
Head to the Watergate Steps, near the Arlington Memorial Bridge and close to the National Mall and Foggy Bottom, and join the fellow trainers running up and down the stairs, or find a pickup game of volleyball at one of the pits at nearby Potomac Park.
5
Admire a world of pint-sized trees
The U.S. National Arboretum's Bonsai & Penjing Museum is an exciting, under-the-radar tree garden featuring cared-for bonsais, some of which are nearly 400 years old. While you're there, don't miss the prized conifer collection and the former pillars that once supported the original U.S. Capitol Building.
6
Enjoy modern art outdoors
Stroll through the National Gallery of Art's Sculpture Garden and admire works from artists like Roy Lichtenstein, Alexander Calder and Robert Indiana. The garden features seating for visitors and a fountain that turns into an ice rink in the winter. The park also hosts Jazz in the Garden on Friday evenings in summertime.
7
Experience Great Falls Park, just outside of DC
Jason Morrison
Spend just $10 per vehicle, or $5 per person if you go on bike or by foot, to explore nature in Great Falls Park, about a 30-minute drive from DC. The 800 acres of scenic parkland consists of hiking trails, cascading rapids and spectacular waterfalls. Admission is good for three consecutive days, and the park does offer fee-free days throughout the year (check the Great Falls website for details).
8
Eat healthy at the Dupont Circle farmers' market
Enjoy a veritable feast for the senses each Sunday at Dupont Circle's FRESHFARM Market. During peak season, there are more than 30 farmers offering items which include fruits and vegetables, meats, cheeses, fish and baked goods. Samples are always available. Market hours are 8:30 a.m.–1:30 p.m. April through December and 10 a.m.–1 p.m. January through March. And if you're looking for local produce and welcoming vibes in other neighborhoods, check out these popular farmers' markets in DC.
9
Explore Rock Creek Park
DC's ultimate outdoor mecca is Rock Creek Park, a 4.4-square-mile expanse that includes numerous trails for hiking, biking and exploring. There's more to like about the park, too, like a nature center, picnic areas, riding stables, tennis courts and Peirce Mill, an historical site.
10
Walk or run along the C&O Canal Towpath in Georgetown
November Project DC
Grab your hiking boots and join the bikers trekking their way down the C&O Canal Towpath, which traces the Potomac River from Georgetown 184.5 miles north to Cumberland, Md.
Want more free fun? Check out the full list of 100 Free & Almost Free Things to Do in Washington, DC.